This team is developing new techniques and methods that help to understand the complex processes that occur under our cities and towns.
We utilise BGS databases and records to produce high-resolution 3D models. With these, we show how a better knowledge of ground conditions, artificial ground, soils, drainage and archaeology can help manage existing and future developments.
Urban Geology brochure
The geosciences have an important, but often underappreciated part to play in securing sustainable global cities. They can support urban innovation and city performance, reduce our environmental footprint and ensure we are resilient to natural hazards such as flooding and ground instability. This brochure provides information about our urban capability, highlighting case studies, technology and data products, to help provide solutions to city challenges.
Our current research
Project Iceberg
Project Iceberg aims to address the serious issue of the lack of information about the ground beneath our cities and the un-coordinated way in which the subsurface space is managed.
Future Cities
Many cities are developing 'future city' programmes where knowledge dissemination, cooperation, policy reform and urban design run in parallel with big data and smart technologies. We are working with those at the forefront of future cities thinking to ensure that urban geoscience research and data is embedded in this process and the value of the ground beneath cities is realised.
Brownfield Ground Risk Calculator
A tool to help understand ground conditions and estimate likely costs of remediating brownfield sites. The tool can be adapted for use by councils across the country to help the planning process when considering development.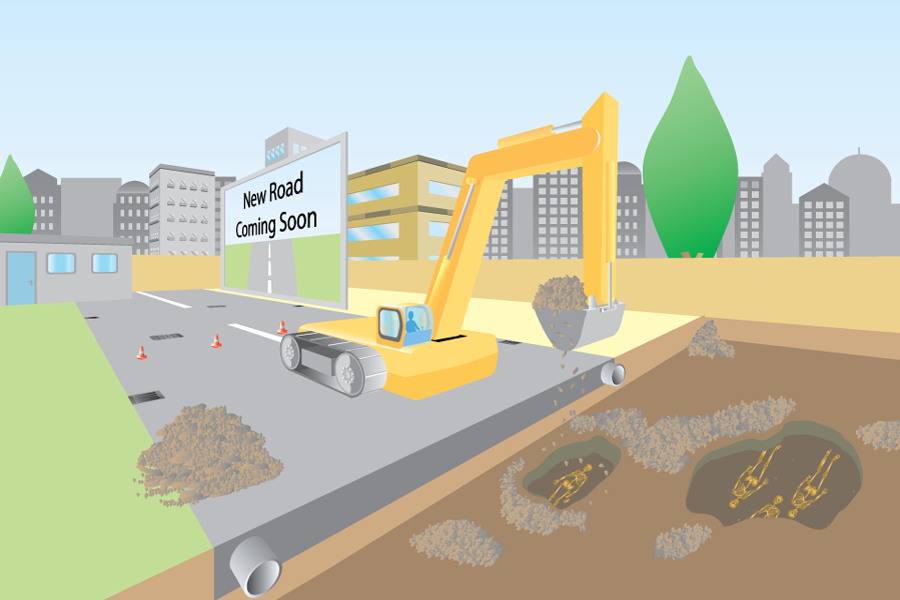 Sustainable use of the subsurface
The subsurface is used for a wide varieties of activities.As the subsurface is exploited more fully, use of the subsurface start to interact with unintended consequences. Our research explores how our actions may impact the subsurface.
Sustainable Drainage Systems (SuDS)
SuDS are drainage solutions that provide an alternative to the direct channelling of surface water through networks of pipes and sewers to nearby watercourses. What issues need to be considered? What information can BGS provide?
The Anthropocene
Humans have had such an impact on the environment that scientists are debating whether we have entered a new geological time Epoch — The Anthropocene.
Cities Underground: London and the Thames Gateway Development Zone
Developing a dynamic geoenvironmental model for the London area to address the 'anomalous' ground conditions of the biggest development programme in the UK for over 50 years.

Clyde Basin
Geophysical and geochemical work in the estuary, and around the River Clyde and its urban tributaries. Understanding the present levels and distribution of natural and contaminant chemistry in the estuary and river-bed sediments, and in urban and peri-urban soils
Manchester and the Lower Mersey Corridor
2D and 3D modelling of ground conditions and natural hazards.
GeoBlogy
Future visions for water and cities
... by Stephanie Bricker
With eight grand challenges, five bold future visions and 200 co-creators, the UK Water Partnership opened the debate on water for our future cities.
Verticality and the Anthropocene: Politics and law of the subsurface
... by Stephanie Bricker
Stephanie explores the ideas emerging from a session at the 2015 Royal Geographical Society conference and the mix of social perspectives and practical applications...
Why do we need to know what's under our cities? And what's it got to do with icebergs?!
... by Catherine Pennington
Subsurface information is tricky to access unless you know what you are doing and the consequences for getting it wrong can be disastrous. Project Iceberg aims to remedy this situation.
Helping to solve the UK housing crisis with a new tool to understand brownfields
... by Catherine Pennington
The BGS has developed a new tool to help understand the ground conditions and estimate likely costs of remediating brownfield sites. The tool can be used by councils across the country to help the planning process. It has the potential to save the construction industry millions of pounds and increase buyer confidence for those considering the redevelopment of brownfield sites.
Contact
Contact Stephanie Bricker for more information.